HYPHOTONFLUX PRO480 VS MARS-HYDRO FC-E4800
✿
Indoor Cannabis growing is increasingly favored by growers. With the development of LED grow light technology, More and more experienced growers expect to have a grow light including UV and IR. Because they are no long just asking plants that will be healthily from seed to flowering and high yields. The experienced cannabis cultivators whose main goal is boosting the amount of fragrant enhancing terpenes and oils for edible, tincture or waxes, rather than focus on high yields. And Experimental proof that grow lights with UV and IR will satisfy their demand.
✿
In order to meet the increasing market demand,We HYPHOTONFLUX launched a new
4'x4' 480W grow ligh
t which included UV and IR. At the same time, We would like to compare it with another popular item Mars Hydro FC-E4800. The listed parameters in below will help you to make the decision.
| | |
| --- | --- |
| MARS-HYDRO FC-E4800 | HYPHOTONFLUX PRO-480 |
| | |
| FC-E 4800 LED grow light draws 480 watts, 4x4ft for personal grow, 3x3ft for commercial grow. The fixture utilizes adjustable Light Bar Design which can be adjusted according to plants needs, But this splicing design will cause a lot of inconvenience when you install it, you have to manually assemble the parts,it not suitable for someone with weak hands-on ability. | PRO-480 LED grow light draws 480W with great dimensions(36"x36") perfect to cover 4'x4' flower growth area and suitable for personal and commercial growing. Unique folding design with plug and play connector, Fast and easy installation, no cumbersome installation process and less risk of parts damage. |
The parameter chart is shown below for each light.
LED Fixture
Parameter
PRO-480
FC-E4800
Price
$449.99 ($404.99 deal price)
$469.99
Spectrum
UV
YES
NONE ( We can not see UV from above spectrum)
IR
YES
YES
Dimension
36"x36"x4.06"
34.02"x34.02"x3.11"
Footprint Coverage
4'x4'
3'x3' for commercial; 4'x4' for personal
Wattage
480W
480W
Efficacy
2.6μmol/J
2.8μmol/J
PPF
1,250μmol/s
1,331μmol/S
LED Brands
SAMSUNG LM281B+Pro TOP bin diodes
BridgeLux
Driver Brands
MOSO
UL certified driver
Bars
6 Bars
6 Bars
Pls check below picture to easy understand if your grow lights included UV or IR.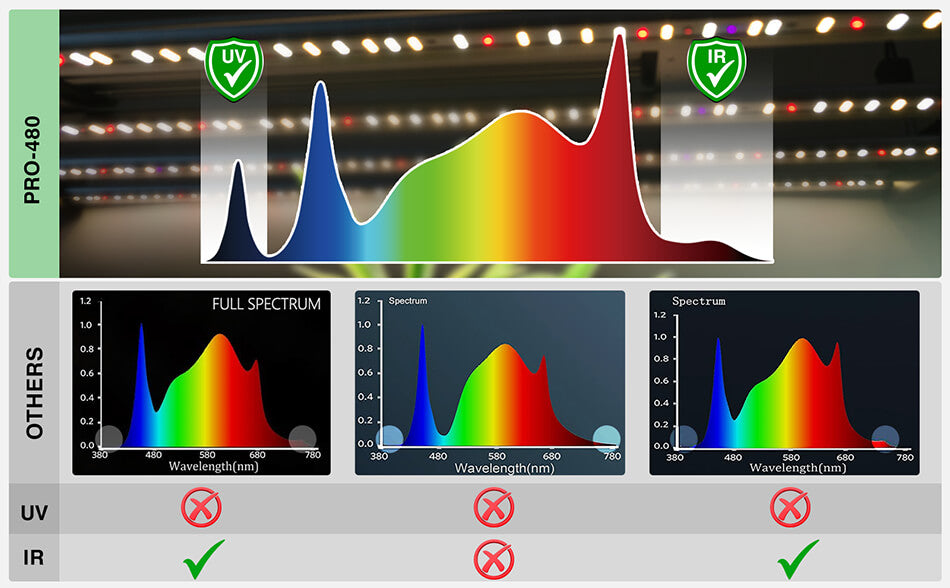 ✿
Pls check below picture to easy understand if your grow lights included UV or IR. HYPHOTONFLUX's vision is to provide 100% data-true, high-quality grow lights. Happy growing, happy harvesting! We grow together with you. If you have any questions about our HYPHOTONFLUX grow lights, please feel free to contact us at sales@hyphotonflux.com.